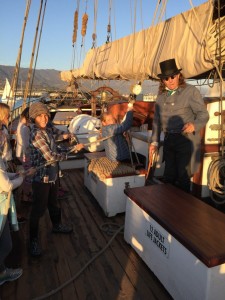 The Santa Barbara Maritime Museum has been bringing the tall ship Spirit of Dana Point up from the Ocean Institute in Dana Point since 2001. This program brings history alive for students, allowing them to spend the night aboard a tall ship living the life of an 1830's sailor. 
Based on Richard Henry Dana Jr.'s book, Two Years Before the Mast, our fourth-graders, who are studying California history, became immersed in the unique world Dana faced as he rounded Cape Horn on his voyage to Alta California, headed to Santa Barbara to trade hides and tallow.
Students explored man's relationship with the ocean, gained an appreciation for our maritime heritage, and learned the concepts of "historical perspectives" and "interpretation". Through challenging hands-on activities students developed problem solving, critical thinking, leadership, communication, and teamwork skills.
The program curriculum offers interdisciplinary lessons in math, science, language arts, social studies, and music. Our fourth graders developed listening and speaking skills, better teamwork, increased self-esteem and class participation, and new leadership abilities. Amazingly, one of the activities enjoyed by many students was the two-hour night watch!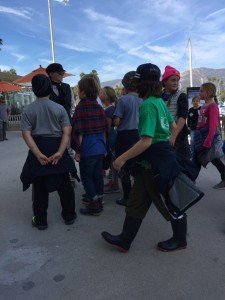 First Mate Mustering Sailors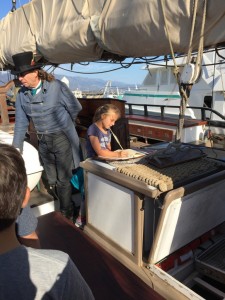 Sailors Signing Contract for Two Years Before the Mast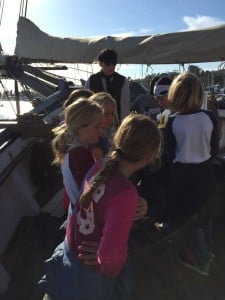 First Mate Teaching Crew Their Jobs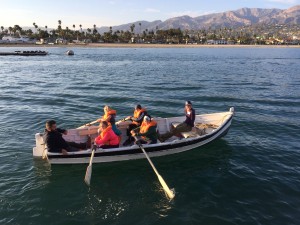 Hide Gatherers Out to Gather Hides
Thirsty Sailors Granted a Water Break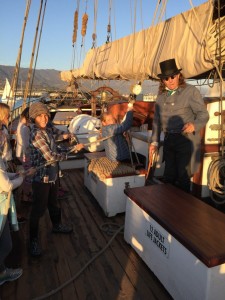 Boatswain Chair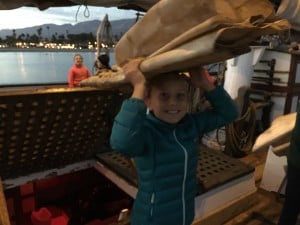 Hidegatherers Return with Two Hides
Captain's Evening Talk
Swabbing the Deck
Sea Shanties
Boatswain's Chair