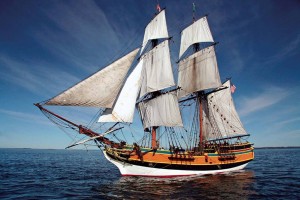 I am copying the letter written by Ms. Svedlund below. I am also including a link to the forms for the trip. If you have any questions, please contact Ms. Svedlund.
Dear 4th grade Parents,
Our exciting Tall Ship Program is coming up on Monday, October 24! 
Your child (a.k.a. sailor) will travel to the Program with the school, but will need to be picked up at the Santa Barbara Maritime Museum at 9 AM on Tuesday, October 25 after the overnight. They will not attend school on Tuesday. Teacher Chaperones will be Donna Brown, Savanna Bomer, (one t.b.d.), and myself.
They should bring their gear to school on Monday morning. Attached is the "What to Pack" sheet. There is a list of NO's on the attached sheet. Everything should fit into the trash bag and they should be able to carry it. Please make sure that your child packs only the items on the list (a toothbrush and toothpaste are not on there- sorry!).
Here is a run-through of what to pack into a trash bag labeled with the LAST name on tape for your sailor:  
1)   1 sleeping bag
2)   1 set of rain gear, including rain boots
–      If you don't have rain boots, please pack an extra dry set of shoes and socks
3)   2 sets of comfortable clothing, in case one gets wet
– Sailors must wear LONG PANTS
– Dress in layers as it will likely be warm during the day and cold at night
            – Sailors will sleep in the clothes they wear. There is not changing room on board, and the heads
(bathrooms) on the boat are small
4)   2 pairs of socks and closed-toed rubber-soled shoes with good traction
–      One pair will be worn by your sailor
5)   1 WARM jacket and 1 hat/beanie
–     It's great if you can send 1 jacket that is waterproof and warm!
–     It gets cold in the middle of the night!
6)   1 Mess Kit with 1 bowl, 1 cup, and 1 spoon
–          NO GLASS or anything breakable – so metal or plastic
–          IMPORTANT– This is what your sailor will be eating out of (and there are no extras on board!), so please make sure to pack these items in a baggie or mesh bag labeled with the last name.
–          Please Note: The mess kit should be packed last in the bag, as we will be pulling them out once we get to the Museum so it's easiest for us if it's on top of the packed trash bag.
The school backpacks and lunch/snack bags (emptied) from the school day on Monday will be left in the 4th grade classroom over the weekend. The only things that students can bring on the overnight are on the list above.
The colored forms included in the packet that was sent home at or after Parents' night should be turned in to the homeroom by October 17. The forms that need to come back to school are the: 1) waiver (yellow sheet), 2) medical forms (2 pink sheets front and back), and photo release (orange sheet). Please email me if you need a replacement copy of the forms.
We're looking forward to a wonderful program! Please let me know if you have any questions.
Best,
Clara