Dear Parents,
The first few days of school were so much fun. I love getting to know my students, and I want them to know who I am. I started with a Prezi presentation about myself. I shared with them some of the things I love to do when I'm not in the classroom. This generated a great deal of discussion about what they love to do. Additionally, your children answered a survey for me so that I know what they are passionate about, both in and out of school. My goal is to tap into their interests and inspire them to learn and grow in new ways.
Professional Growth
This summer, my professional development included some terrific books about the instruction of reading and writing. The Book Whisperer is one of the most inspiring books I have read. I read it last summer, and reread it this summer!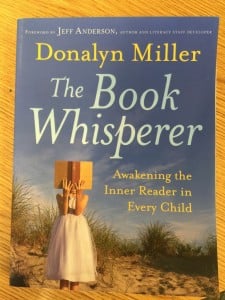 I've worked diligently on growing my classroom library over the past couple of years. I want your children to be surrounded by a variety of books. We currently have 466 books in our collection. I would love to see it grow! Each month, you will receive a Scholastic Book Club order form. Whenever your child buys books, we earn points as a class. I use those points to buy more books for our library. I thank you, in advance, for your support of our class library.
This is what it looks like now….
These empty bins are ready for new books!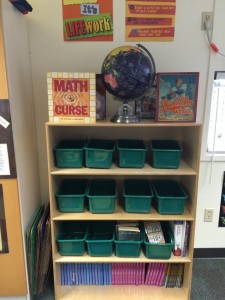 In addition to my summer professional reading, I attended an iPad summit right here in Santa Barbara. I'm always looking for the most effective apps to use with my students, those that facilitate meaningful learning.
I feel so lucky to have a one-to-one iPad program in fourth grade. On Thursday, we learned about caring for our classroom iPads.
Leadership
We have a terrific team of leaders this year in fourth grade! I have already witnessed them reaching out to younger students on our campus to offer a helping hand or to include them in a game at recess. I look forward to all that we will learn together this year!
Blogs
Be on the lookout for a blog permission note and blog instructions. I will not post photos of your child until the permission note is signed and returned. They will be coming home this week. I will also provide instructions for how to subscribe to the our blog. This is my primary means of communication, so you will want to subscribe:)
Have a terrific week!
Sincerely,
Mrs. Brown