This was a terrific day of discovering what it was like on a working mission in the late 1700s. Not only did we hear about it from docents who dressed for the part, we participated in some of the activities. 
We started our exploration of the mission with a hike up to the cross.
This is the view from the cross, overlooking the mission.
Next, we entered the cemetery.
This is the bell tower.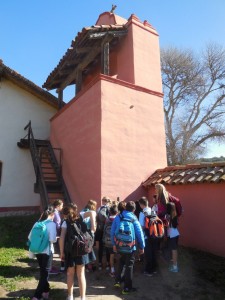 …inside the chapel
…tallow vat
…the prison
…grinding corn
…weaving rugs
…the blacksmith
…games
…a Chumash dwelling