Students have begun researching and mapping out their Genius Hour projects. Here are some shots from last Friday's session.
Elyse, Jayla, and Kendall are constructing a miniature pony house with working electricity.
Noah, Spencer, and Gabriel are creating their own "Lego-type" connecting blocks in Tinkercad, which will be printed on our 3D printer.
Magdalena and Ally are going to sew an article of clothing.
Jake and Keanu are building a website like Facebook for dogs and cats.
Ulrikke and Tracy are creating their own cookbooks, complete with "how to" videos. 
Anne, Alex, and Lucas are learning code on Codecademy to create a web site.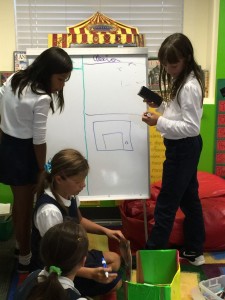 Lily and Alexia are designing a Rube Goldberg machine.