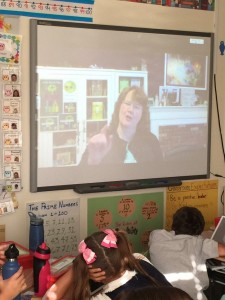 Author of Fish in a Tree, Lynda Mullaly Hunt
The Global Read Aloud is finally here! If you are wondering what it's all about, this is a blurb about GRA, written by the creator herself, Pernille Rip:
"The project was created in 2010 with a simple goal in mind: one book to connect the world. Now with five years under our belt and more than 500,000 connections made in 60 different countries, we realize we are on to something larger than us so we look forward to continuing the global connections.
The premise is simple; we pick a book to read aloud to our students during a set 6-week period and during that time we try to make as many global connections as possible. Each teacher decides how much time they would like to dedicate and how involved they would like to be. Some people choose to connect with just one class, while others go for as many as possible. The scope and depth of the project is up to you. In the past we have used Twitter, Skype, Edmodo, our wiki, email, regular mail, Kidblog, Tackk, and any other tools we can think of to make these connections. Teachers get a community of other educators to do a global project with, hopefully inspiring them to continue these connections through the year."
On Monday, the Global Read Aloud became real for our class. The book we are reading, along with thousands of students from around the globe, is Fish in a Tree by Lynda Mullaly Hunt. We watched a YouTube video of Lynda welcoming us to the Global Read Aloud. As we read the book, students began blogging about it on their new blogs. On Thursday, we responded to a slow chat on Twitter. Each week a different teacher hosts the slow chat by asking a question about the book. Classes respond to the questions on Twitter. Three students each time will have their answers tweeted out. It was so exciting to see what students from different schools had tweeted. The question this week was, "In your life, have you ever felt like a fish trying to climb a tree?"